Target group: individuals or groups at risk of discrimination, poverty or social exclusion, adults with social and assistance services, members and residents of marginalized Roma communities, families with children, single-parent families, large families, disadvantaged jobseekers.
Activities: Volunteer internship, social counseling, education.
Description: The aim of the project is to increase the chances of people in need for their self-realization and to support their integration into society. The project is aimed at helping and supporting people who, due to their problems in various areas, have difficulty finding job, they are losing their work habits and at the same time motivation to solve problems. Through a volunteer internship at the Dúbravka Family Center, n. o. clients have the opportunity to return to the work process, regain or maintain work habits and become a part of the local community. The volunteer internship is supported by social counseling and active education in the areas of financial and computer literacy, self-presentation training, practicing formal behavior, creating a resume and the like. The duration of the volunteer internship is individual. The social worker accompanies the client through this process, together they evaluate all major events, changes, needs, but also difficulties and concerns that occur. An important step in the project is also establishing cooperation with employment agencies and employers, to whom we will be able to recommend a person with work skills and experience in volunteering.
Duration: 04/2022 – 11/2023
Project support: This project is implemented thanks to support from the European Social Fund and the European Regional Development Fund under the Operational Program Human Resources.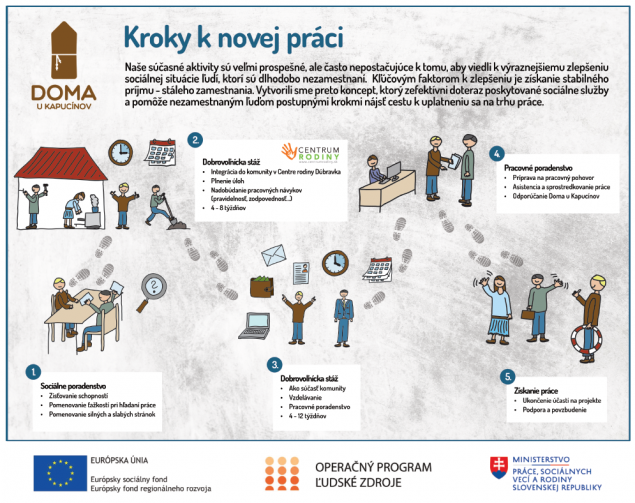 Doteraz sa nášho nového projektu "DuK Podpora zamestnanosti" zúčastnilo sedem klientov. Viac ako polovica z nich si už úspešne našla prácu. S niektorými naďalej pokračujeme na ceste za novou prácou. Nezamestnanosť však nie je jediný problém, s ktorým sa naši klienti/klientky stretávajú. Postupom času a nadväzovaním vzťahu spoločne otvárame aj témy ako dlhy, vzťahy alebo závislosť, preto sa snažíme prispôsobiť projekt tak, aby zohľadňoval to, v akom bode svojho života sa človek nachádza. Každý nemá rovnako dlhú cestu a my sme radi, že sa títo zatiaľ siedmi ľudia vydali na ňu spolu s nami.
Počas realizácie projektu sme sa stretli aj s prekážkami, ktoré vnímame pre nás ako výzvu a stále sa učíme, ako projekt zdokonaliť. Zistili sme, že pre väčšinu našich klientov etapa dobrovoľníckej činnosti nie je vhodná v ich momentálnej životnej situácii. Veľa z nich sa nachádza na prahu chudoby a prácu si potrebujú nájsť čo najskôr. Vnímame, že pre týchto klientov bolo najväčším prínosom vzdelávanie, ktorým prešli, ako napríklad tvorba životopisu, príprava na pohovor, finančná a počítačová gramotnosť. Pre inú časť klientov (napríklad invalidných dôchodcov) sa však, naopak, dobrovoľnícka činnosť stala obohacujúcou. Začlenili sa do miestnej komunity v Centre rodiny v Dúbravke, našli si priateľov a aktívne naďalej s Centrom spolupracujú.